Judy's Dolls Newborn Nursery Adoption Center
At Judy's Dolls  Newborn Nursery Adoption Center, give the individual you love a chance to bond with her new infant baby doll in a unique adoption experience she will cherish forever. From rocking the baby doll in her arms, to picking out its first outfit and listening to its soft heartbeat, every new mommy feels the joy, excitement and responsibility of becoming a new parent. One of only a few adoption centers nationwide, Judy's Dolls' one-on-one adoption appointments make the perfect gift from parents, grandparents, godparents, relatives and friends.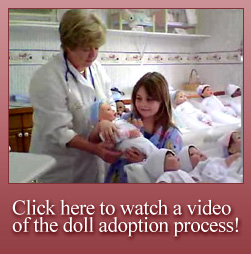 Choice of  Newborn Nursery baby doll*
An I.D. bracelet
A completed birth certificate with an embossed footprint
A Proud New Parent Pin
A diaper
A baby Bottle
The experience of a lifetime!
THE PHONE NUMBER IN THE VIDEO HAS BEEN CHANGED
TO:  407-951-6465
*The adoption fee is for a Newborn Nursery Baby Doll.  You may choose
any doll in the store and just pay the difference between the doll you chose
and what you paid when you made the reservation.
Treat the doll lover in your life to something truly unique and special—an experience they will remember forever. RSVP for your adoption appointment now online.