About Judy Putz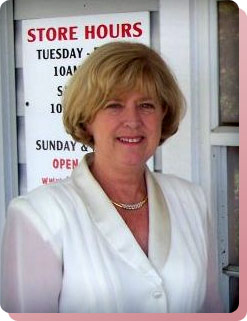 As a long-time doll collector, Judy Putz opened Judy's Dolls almost two decades ago, using her knowledge of premium play dolls and limited edition collectible dolls to showcase a variety of lines not found in other stores. Unlike large chain stores or other online retailers, Judy is always willing to speak personally with a doll collector or customer to answer any questions they may have.
Judy's one-of-a-kind, lovely Victorian-style combination home and doll store sits just 12 miles north of Orlando in the 150-year-old Historic District of Longwood, FL. Because she lives on-premises, she and her husband, Dave, enjoy the flexibility of serving customers at their convenience, even if it after normal business hours. When planning their vacation agenda, Judy invites doll collectors to schedule a special appointment to visit Judy's Dolls at a time that best fits their schedule of events. In fact, many vacationers from all over the country and the world visit Judy's Dolls since the shop is located near the vacation capital of the world and within driving distance of Disney World's theme parks.
The popularity of her doll shop among collectors and customers world-wide led her to start selling dolls online through her E-Store. While the store is online, the great customer service and focus on premium, limited edition collectible dolls remains the same.
As you enter her quaint little doll shop, you will be greeted with a friendly "hello," and an offer of assistance or an invitation to browse, whichever you desire.
Named a Certified Steiff® Retailer, and one of the only Middleton Newborn Nursery Adoption Centers in the state, Judy's expertise makes her stand out among the doll stores in her area, helping her to succeed when other doll shops have gone out of business.
As an active volunteer in her community, Judy served on numerous citizen volunteer boards, and for her contributions, Judy received the Key to the City in 2004, and has been recognized by the City of Longwood and the Seminole County Sheriff's Office for her service and contributions to the children of Seminole County.
Judy won second place in her category at the Southern Woman's Home Show for having the best display and was named Business Person of the Month by her city. She has also been recognized by the Sons of the American Revolution for her exemplary patriotism in her displays of the American Flag.
To find out more about Judy, visiting the brick and mortar store, the E-store or the premium dolls she showcases, simply contact her to Ask Judy any questions you may have.